F*CK ME It's Freshers 🎉 | The UK's Craziest Freshers Tour 💦 – Brought to you by Your Freshers Guide

SIGN UP FOR FREE NOW! ✅
📍 The UK's BIGGEST & BEST Clubs
Freshers – Are you ready of the CRAZIEST night of your life?! 🔥
This is without a doubt, THE BIGGEST, MESSIEST & WILDEST event you'll hit all year….. NO COMPETITION! 💦
F*CK ME IT'S FRESHERS has been an annual tradition for new students starting University for 11+ years running! And now it's YOUR TURN! Get Ready for the most epic UV Neon Rave on steroids! We'll be supplying a F**K load of FREE UV Paint, Neon Glowsticks & LED Batons to create a monstrous, immersive nightclub atmosphere like no other!
With loads of party games, challenges, performers & entertainment, F*CK ME IT'S FRESHERS is truly a ONCE IN A LIFETIME experience! This year we've even thrown in some added surprises & freebies for students attending Freshers 2023!
This event always SELLS OUT IN ADVANCE – It's for this reason we recommend purchasing your freshers tickets early! With all of our tickets being refundable if you do not get into University, there's really no reason to wait ⚠️

---
🚨 WHAT TO EXPECT 🚨
😈 80000+ Students
🌍 30 Cities
🔴 Huge Adult Ball Pits
💦 The UK's BIGGEST Foam Cannons
💃 Carnival Style Stilt Walkers
🔥 UV Neon Dancers & Fire Performers
🤖 Glow-in-the-dark robots
🎉 Exploding Confetti Cannons
💨 CO2 Cannons
🍭 Free Sweets
⚡️ 1000s of Neon Glowsticks
🌈 UV Light Up Batons
🎨 Neon Face Painting Stations
👕 F*CK ME It's Freshers T Shirts
🎲 Party Games
🎁 Huge Giveaways
🥤 Cheap Student Drinks
🎧 The UK's BIGGEST DJs!
---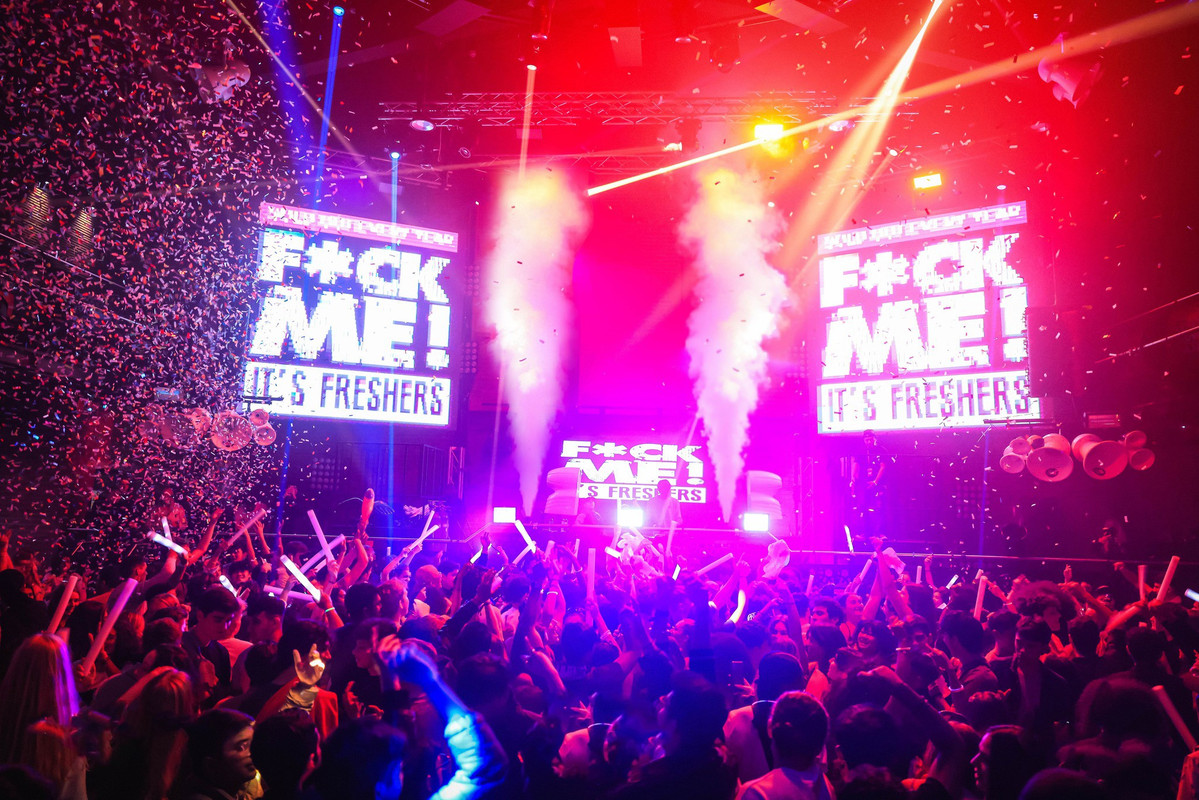 ---
☎️ CONTACT US 24/7 ☎️
EMAIL : INFO@YOURFRESHERSGUIDE.COM
MOBILE HOTLINE / WHATSAPP : 07894 553 938
INSTAGRAM: @YourFreshersGuide
---
💰 JOIN OUR TEAM TODAY 💰
Work For Your Freshers Guide // We are the UK's biggest student events
company running the UK's biggest weekly and one off club brands!
We are recruiting FRESHERS at all UK Universities to sell tickets for
our events!
★ Free Entry to ALL OF our events and free drinks!
★ V.I.P Treatment at all our events!
★ Earn commission for every ticket sold!
★ Easily make new friends in your halls!
★ Be part of a fun team of promoters
★ Bonuses//- Extra Money, Free nights out AND MUCH MORE!
Sign Up here NOW 👉 https://www.yourfreshersguide….
---
Bath Freshers / Birmingham Freshers / Bournemouth Freshers / Brighton Freshers / Bristol Freshers / Canterbury Freshers / Cardiff Freshers / Chester Freshers / Coventry Freshers / Derby Freshers / Durham Freshers / Exeter Freshers / Gloucestershire Freshers / Huddersfield Freshers / Hull Freshers / Keele Freshers / Kent Freshers / Leeds Freshers / Leicester Freshers / Lincoln Freshers / Liverpool Freshers / London Freshers / Loughborough Freshers / Manchester Freshers / Newcastle Freshers / Northumbria Freshers / Norwich Freshers / Nottingham Freshers / Nottingham Trent Freshers / Plymouth Freshers / Portsmouth Freshers / Reading Freshers / Sheffield Freshers / Southampton Freshers / Staffordshire Freshers / Surrey Freshers / Sussex Freshers / Swansea Freshers / Warwick Freshers / York Freshers
Venue
The BIGGEST Clubs around the UK
London
UK